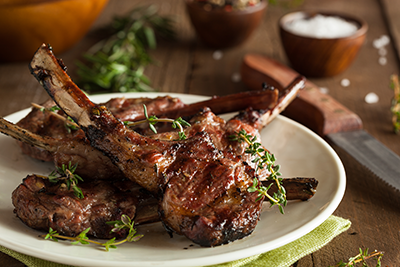 At Nourish & Grow, our lambs are bred 100% the old-fashioned way – raised naturally on the pastures of the unique rangelands of Western NSW. We, John and Ann Crossing, are passionate about breeding for sustainability, and thus take a holistic and regenerative approach on our property, 'Glenace', Canbelego.

Animal welfare, soil regeneration and quality over quantity form the philosophy behind Nourish & Grow. Our animals play a vital role in ensuring soil health is optimised, water absorption and organic matter is increased, biodiversity is built and carbon is captured. Our stock wander freely throughout their paddocks, feeding on a variety of native pastures – just as nature intended.

We would be thrilled for you to join us on our journey for environmental change with your purchase of Nourish & Grow - Natural Lamb. You will experience the amazing taste of a naturally raised and well-cared for lamb. Gain from the health and nutritional benefits and enjoy the rewards from an economical purchase. A full or half carcase of lamb will provide you with a smorgasbord of meal solutions.

You can now place an order any time here. The deadline for ordering to receive on July 7th, is Friday 25th June. We ask that you familiarise yourself with our FAQ's here before ordering and check the terms and conditions page here. Please contact us with any further questions.
Good day Ann, So far so good, loin chops very good, cutlets to die for, had 2 where 1 would have been enough, and we really enjoyed one of the half legs. Top marks to both of you. - Barry & Judy, Cobar

We loved the lamb! And hubby was over the moon with the loin chops - they are his favourite. - Erika, Cobar

Beautiful meat. Love the sausages and rolled roast so far. - Katrina, Nyngan

We love the sausages. Have ordered more again this time. Thanks Ann and John for such a quality product. - Tara, Cobar (repeat customer)